Cleanroom and Semiconductor
Premium Tech offers a complete cleanroom vacuum cleaner system designed specifically for the pharmaceutical, semiconductor and microelectronics industry. This is compatible with ISO Class 4 cleanroom conditions as defined in ISO 14644-1 (Class 10 as per FED STD 209E) and in conformance with GMP standards.
Tiger-Vac cleanroom vacuum cleaners are equipped with HEPA Filters (efficiency of 99.995% @ 0.3 micron. Tested: IEST-RP-CC001. H14 by MPPS method as per EN 1822) or ULPA Filters (efficiency of 99.999% @ 0.12 micron, or efficiency of 99.9995% @ 0.18 micron. Tested: IEST-RP-CC001. U15 by MPPS method as per EN 1822). Our HEPA and ULPA filters are individually laser tested and the test results are written on each individual filter.
In addition to using HEPA and ULPA filters that are individually tested, Tiger-Vac performs an aerosol leak test on each cleanroom vacuum cleaner that leaves our factory. This ensures the integrity of the filter and the integrity of the seals and gaskets around the filter to guarantee cleanroom compatibility. The aerosol leak test is a value-added service that Tiger-Vac provides. No other distributor (or manufacturer) comes close to what we at Premium Tech offers!
Our portable cleanroom vacuum cleaner range can be used to clean the inside of processing machines or in conjunction with processing equipment to remove internal dust or fumes generated during the manufacturing process. The first stage of filtration is typically a disposable filter bag made of paper media or synthetic media. The intermediate filters are typically fabricated from cloth or fabric and possibly have PTFE lamination to increase the filtration efficiency. The final stage of filtration is an ULPA filter cartridge which is installed at the exhaust of the vacuum cleaner. The exhaust ULPA filter captures the ultra-fine dust which has escaped the primary filters and it also captures the carbon residue from the vacuum cleaner's motor which is also a contaminant.
Tiger-Vac has introduced several new models which feature a fully autoclavable recovery tank, wheelbase assembly, suction hose and accessories. Autoclaving is an effective method to remove dirt and grime from the various components of the vacuum cleaner. Proper autoclave treatment will inactivate all bacteria, viruses and bacterial spores. Autoclavable suction hoses are available in EPDM or FDA compliant food-grade silicone which is clear and can be easily inspected. The vacuum tools are made of stainless steel, nitrile and food-grade silicone.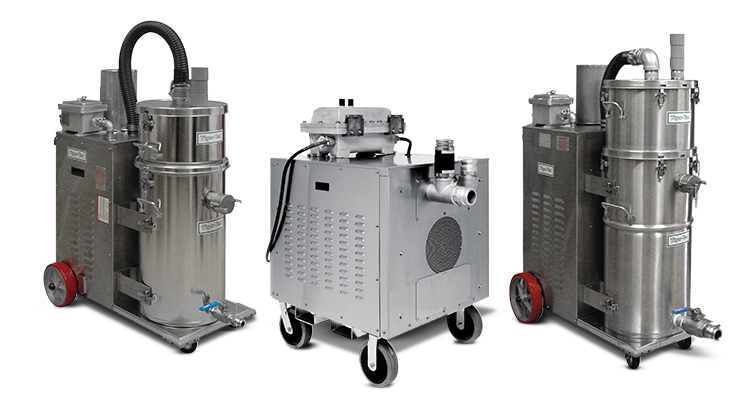 DOWNLOAD BROCHURE FOR: